• Rosa Lee
Springtime is around the corner and Rosa Lee Boutique here in Anniston, AL has the perfect springtime transitional pieces for your wardrobe. Check out what we are recommending.
---
• Rosa Lee
Rosa Lee Boutique's best sellers for January. Many sweaters that are either a statement piece or a neutral basic ready to join your wardrobe. Check out these best selling pieces before they are gone.
---
• Rosa Lee
Happy February, ladies! Or maybe I should say happy LOVE month! I have always loved Valentine's Day – even when I was single! Don't think of it as "singles awareness day" and get all depressed; I have always looked at is as a day to do something a little extra to show the people I love how much they mean to me. Whether it be your friends, parents, children, or best gal pal, just do show them you love them this month!  My command is this: LOVE each other as I have LOVED you. – John 15:12 We LOVE because...
---
• Anna Messer
From Now On  Raise your hand if you have seen the movie "The Greatest Showman". If you haven't seen it let me begin with a short summary. This movie is about a man with a dream. He has many successes as well as setbacks and ultimately looses everything that was important to him. He hits rock bottom and with the help of friends he realizes that he is MOST successful with his family. At HOME.  "From Now On" is the song the main character sings while having the revelation. The lyrics are powerful and inspiring.  "I Drank champagne with Kings and...
---
• Rosa Lee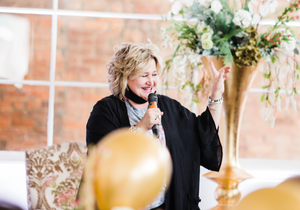 Let's talk.   It's definitely a NEW YEAR isn't it?  Some of us...well, all of us...have been through things in the last year that we never dreamed possible in our lifetime.  At all different levels, we have had devastating changes with the COVID-19 pandemic; either tragic loss of a loved one or possibly in the financial realm of a business or personal situation, and even in our state of mind with such a life altering change as this has brought on. I think it's safe to say that most of us wanted to hurry and get to a new (and improved)...